Presentation
In 1996, a group of young Brussels-based musicians embarked upon a collective musical adventure around baroque orchestral music.
Our credo: deriving pleasure from working together, in a spirit of honesty, openness, curiosity and sharing; the joy of bringing classical music to our contemporaries and making early music accessible to all, to be appreciated for itself.
A double approach: shining a new light on the great masterpieces, thereby serving the renowned composers; revealing hitherto unpublished treasures of our musical heritage through in-depth musicological study, edition and organology.
One intention: to paint a nuanced picture in the colours of the baroque period, with a special focus on the notion of "cultural circulation" that then governed European arts and music: through programmes that highlight cross-cultural musical influences ("Italian Craze") or particular geographically localised idioms (such as "Mater Dolorosa and the Neapolitan Baroque"), that showcase a particular instrument (such as the chalumeau or the organ) or a particular composer or rediscovered musical jewel (such as reconstructions of organ concertos by J. S. Bach), or carry a cross-sectional theme (such as "Cosmos", "Odes To the Forces of Nature").
Our means: Historically informed performance, combined with a scrupulous approach to recording. Les Muffatti's discography to date comprises eight releases, all unanimously praised by the critics. Our recording of Reinhard Keiser's Brockes-Passion, in collaboration with Vox Luminis, won the three principal Belgian recording prizes in 2014: Klara Classical Record of the Year, the Caecilia award (of the Belgian music press union), and "Octave" for classical music.Our latest CD, J. S. Bach – Concertos for Organ and Strings, with soloist Bart Jacobs, has won numerous accolades and awards since its release in February 2019: the Klara Classical Record of the Year, the Diapason d'Or de l'Année, Het Gouden Label, Luister 10… and was selected CD des Monats by Toccata.
The orchestra's name refers to Georg Muffat (1653-1704), a cosmopolitan composer and inescapable source for the early history of the orchestra. He was one of the first to establish in detail the main characteristics differentiating the French and Italian musical styles of the time. Our debut recording was devoted to this composer.
The artistic direction is carried out by a the concertmaster, a soloist, or a guest conductor, depending on the specificities of each project. On a more permanent basis, the orchestra's overall artistic coordination, as well as the general lines of its unique strengths, are maintained by a trio of orchestral members, each contributing their own experience and ideas – as individuals, but also as indispensable and active links.
In the manner of the workshops of the master painters of the era, Les Muffatti offer a laboratory for research and synergies between the cities of Europe and the world and the artists that traverse them.
The story so far ...
1995
Some students of the Brussels Conservatorium decide to work together on Baroque repertoire, under the guidance of specialists
1996
They present their first concert. On the programme: chiefly Muffat
1999
Over the next four summers, they present a travelling concert programme in the south of France, livening up the local folk-festivals.
2000
The ensemble marks their 5th anniversary with a grand concert in Brussels.
2003
Peter Van Heyghen – experimental musician, singer and recorder-player, conservatorium lecturer and (above all…) endlessly fascinated by different repertoires and historical performance practices – coaches the group for the first time. The project is so inspiring they immediately decide to forge a long-term collabooration.
2004
Les Muffatti present their first concert on historical instruments, under their new permanent conductor and artistic leader, Peter Van Heyghen, and establish themselves as a professional ensemble.
2005
Recording of their debut CD, dedicated to Georg Muffat's Armonico Tributo, for the Ramée label.
2005-2014
For the next ten years, under the direction of Peter Van Heyghen, they perform right across Europe and record 7 CDs.
2012
The first project with the ensemble Vox Luminis: Reinhard Keiser's Brockes-Passion, with a recording as endpoint.
2014
Peter Van Heyghen steps back from the position of permanent director, but remains a distinguished collaborator. Les Muffatti redefine their artistic project.
2015
The recording of Reinhard Keiser's Brockes-Passion with Vox Luminis receives well-deserved honours: a classical Octave, and the Caecilia prize, as well as being named Klara's recording of the year.
2015
Les Muffatti present their first concert without conductor in more than ten years, to great acclaim.
2016
Their seventh CD, Arie per la Cuzzoni, feturing French-Moroccan soprano Hasna Bennani, is released in January, and enjoys a glowing reception from both public and critics.
2017
Les Muffatti are awarded the "Telemann Label"  in this year celebrating the 250th anniversary of the death of the composer.
Become a friend of Les Muffatti
Les Muffatti dedicates all its energy and expertise to an ambitious artistic project.
This project is the development of a contemporary interpretation and performance practice of its chosen repertoire, to approximate as far as possible the original intentions of the composers using means available at their time. If you agree with us that such a project deserves special support, please help us make it possible and lasting by providing your contribution: become a member of the Donor Circle of les Muffatti. We assure you that your donations will be used in the most effective possible way. For more information about how you could support Les Muffatti, contact us.
The musicians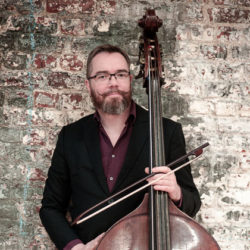 Benoît
Vanden Bemden
Double bass - Violone