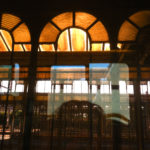 Length of the programme
60 minutes
Team : 13 musicians
Bart Jacobs, Organ
Les Muffatti
artistic direction
Les Muffatti
JOHANN SEBASTIAN BACH (1685-1750)
Concerto in D Major for Organ and Strings (after BWV 169 and BWV 1053)
Concerto in G minor for Organ and Strings (after BWV 1058 and BWV 1041)
Concerto in D minor for Organ and Strings (after BWV 1052 and BWV 146)

Although there is norecord of Johann Sebastian Bach ever having composed a concerto for organ and strings, there are eighteen surviving cantatas in which the composer used the organ asa solo instrument for his sinfonias with orchestra.
According to one newspaper review, during a concert in the Sophienkirsche in Dresden in 1725, Bach performed "Praeludiis und diversen Concerten mit unterlauffender Doucen Instrumental-Music" (various concertos with sweet underlying instrumental music). While it is unclear what specific works Bach played, it is perfectly plausible that he combined some of his splendid sinfonias to produce organ concertos of great virtuosity.
Bart Jacobs, appointed organist at the Cathedral in Brussels, joins hands with Les Muffatti and takes on the challenge of reconstructing these concertos for organ and strings in three movements. These hitherto unheard works are presented alongside a majestic though more familiar Prelude and Fugue, specially selected by Bart to for the specific instrument at his disposal.
The rich timbre of the organ combined with the exquisite strings of Les Muffatti and the particular acoustics of the church or concert hall make each performance of this programme a unique experience and bring the Dresden Konzert of 1725 back to life.
This programme requires a particular kind of organ (German baroque style ideally tuned to 415 Hz or 440 Hz, with at least two manuals with a C-d"' compass and a pedalboard with a C-d' compass) around or under which the orchestra can be placed.